Constructing a Nation: Identity Markers of Armenians
(According to the Mshak Periodical Published during 1872-1892)
Keywords:
Mshak, Grigor Artsruni, Armenian liberalism, Mshak's liberalism, identity markers, language, homeland, religion
Abstract
The controversy about national identity in contemporary Armenian society is getting more and more intense. Diverse perspectives and opinions exist on this topic. Some are confident that Armenian national identity coincides with religious identity; some have a strong belief that religion is not an important component of national identity. The recent interview of Archbishop Pargev Martirosyan, the current Primate of the Diocese of Artsakh of the Armenian Apostolic Church (AAC), during which he asserted that a real Armenian is only an adherent of the AAC, sparked a major debate on the place of religion in the Armenian understanding of national identity. Some parts of Armenian society criticized this religious interpretation of national identity, asking how this relates to Muslim Armenians - the Hamshen people.
The formation of national identity is a complex process, and in order to have a good understanding of processes relating to debates about the content of national identity in contemporary Armenian society, an analysis of early stage Armenian national identity formation is very important. Paradoxically, no studies have explored how the XIX-century Armenian print media shaped the discourse on the Armenian identity. This article makes a contribution to the research in the field and attempts to fill the existing gap.
The purpose of this article is to provide an analysis of the early stage of Armenian national identity formation, namely the analysis of identity markers of Armenians as formulated by the liberal Armenian Mshak2 (Cultivator) periodical published in Tbilisi during 1872-1892.
A complex set of the following questions is discussed in the article: Which are the identity markers of Armenians according to the Mshak periodical? How do these identity markers correlate? How has Mshak defined the function of religion in the formation of Armenian national identity? Considering the three questions listed above, I will proceed with discussing Mshak's understanding of their periodical's role in Armenian society. I will then turn to analyzing the Mshak concepts of language and homeland, which were claimed by them to be the main identity markers of Armenians. Finally, I will try to show how Mshak perceived the function of religion, particularly the Armenian Apostolic Church, in the nation-building process.
References
Artsruni G., Armenian and Georgian press // Mshak, issue 44, 1877
Anderson B., Imagined Communities: Reflections on the Origin and Spread of Nationalism, London: Verso, 2006, p. 6
Smith A.D., National Identity, London: Penguin, 1991, p. 24
Hroch M., Social Preconditions of National Revival in Europe: A Comparative Analysis of the Social Composition of Patriotic Groups among the Smaller European Nations, Cambridge University Press, 1985, p. 14
Suny R., Looking towards Ararat: Armenian in Modern History, 1993, p.41
Suny R., The Making of the Georgian nation, 1988, p.115
Artsruni G., The issue of Armenians' education // Mshak, issue 82, 1877
Artsruni G., Word or action // Mshak, issue 6, 1877
You and we // Mshak, issue 2, 1872
Our biggest enemy // Mshak, issue 40, 1872
It is required a sacrifice from us // Mshak, issue 45, 1873
Whose fault is it? // Mshak, issue 14, 1872
Artsruni G., How a nation can be kept? // Mshak, issue 5, 1878
Why don't we understand each other // Mshak, issue 6, 1872
Artsruni G., Elementary thoughts // Mshak, issue 106, 1880
Yesterday, Today and Tomorrow // Mshak, issue 1, 1872
Artsruni G., Everything for money // Mshak, issue 7, 1877
What is individuality? // Mshak, issue 25, 1872
Artsruni G., Language and nation // Mshak, issue 28, 1877
Artsruni G., Armenians and Georgians // Mshak, issue 1, 1880
Language and Life // Mshak, issue 11, 1872
Why we don't understand each other? // Mshak, issue 6, 1872
Who should we blame? // Mshak, issue 14, 1872
Religion and Nation // Mshak, issue 24, 1873
Artsruni G., What is the consequence? // Mshak, issue 68, 1877
The past glory of Armenia // Mshak, issue 98, 1881
Artsruni G., What do we lack // Mshak, issue 18, 1878
Artsruni G., Native language // Mshak, issue 165, 1880
Artsruni G., There is no end // Mshak, issue 181, 1880
History: They and we // Mshak, issue 29, 1876
Artsruni G., We are Jews as well // Mshak, issue 37, 1876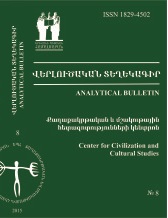 Downloads
How to Cite
Bazinyan, M. (2015). Constructing a Nation: Identity Markers of Armenians: (According to the Mshak Periodical Published during 1872-1892). Analytical Bulletin, 8, 67–80. Retrieved from https://analytical-bulletin.cccs.am/index.php/ab/article/view/138