OVERCOMING OR FORGETTING? PUBLIC DEBATE ABOUT SOVIET SYMBOLS AND MONUMENTS IN TBILISI
Keywords:
collective memory, identity, monument, forgetting, Soviet symbols.
Abstract
After the collapse of the Soviet Union, the fate of the totalitarian communist heritage was widely discussed in independent Georgia. This paper seeks to answer the following questions through a Georgian lens: Does visualization of the past promote the formation of a new collective memory? Does this process imply remembering or forgetting the past, deconstructing or preserving it? How was the Soviet past reconsidered in Georgia? This study presents the complex and controversial processes of overcoming the Soviet past and constructing a new narrative of the "shared past" as a basis for the formation of a new Georgian identity. This study is based on the analysis of monuments, symbols, and buildings, which are located in the central part of Tbilisi from Rustaveli Avenue to Liberty square.
References
Elisashvili, A.. How Tbilisi has been changed?, BakurSulakauri publishing house, 2013.
Vardosanidze, V. Understanding the Soviet past, Discussions 2011.Tbilisi, 2012.
Kordzakhia, I. "Our society is a brief overview of past years, DzeglisMegobari, Tbilisi, 1964, N2.Нора, П.
"Всемирноеторжествопамяти". Памятьовойне 60 летспустя. Россия, Германия, Европа. М., 2005, с. 391.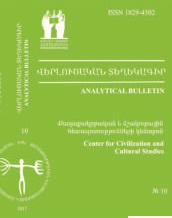 Downloads
How to Cite
Bilanishvili, S. . (2017). OVERCOMING OR FORGETTING? PUBLIC DEBATE ABOUT SOVIET SYMBOLS AND MONUMENTS IN TBILISI. Analytical Bulletin, 1(10), 47–64. Retrieved from https://analytical-bulletin.cccs.am/index.php/ab/article/view/59